Yearbook of Astronomy 2022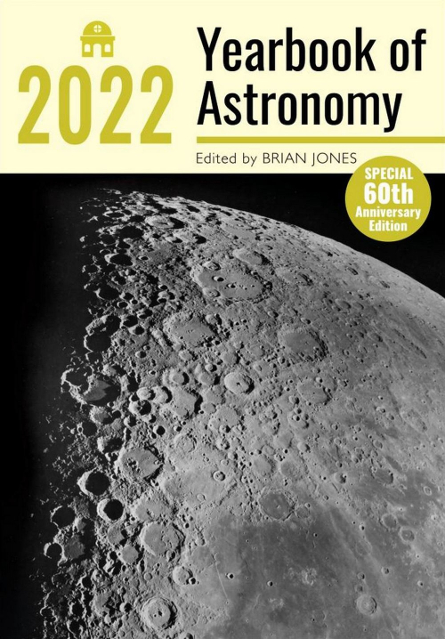 The Yearbook of Astronomy 2022 is the Diamond Jubilee edition of this iconic publication, the annual appearance of which has been eagerly anticipated by astronomers, both amateur and professional, ever since this invaluable book first appeared in 1962. As the preface to the 1962 edition informed its readers, the post-war years had seen a tremendous growth of interest in astronomy and space research. Doubtless fuelled by the dawn of the Space Age, the launch of Sputnik 1 in October 1957 marked a significant change in the course of history. This epoch-making event, coupled with the subsequent flights of Soviet cosmonaut Yuri Gagarin (April 1961) and American astronaut Alan Shepard (May 1961), served to engender a public interest in astronomy and space that has continued to grow and expand to this day.
Maintaining its appealing style and presentation, the Yearbook of Astronomy 2022 contains comprehensive jargon-free monthly sky notes and an authoritative set of sky charts to enable backyard astronomers and sky gazers everywhere to plan their viewing of the year's eclipses, comets, meteor showers and minor planets as well as detailing the phases of the Moon and visibility and locations of the planets throughout the year. To supplement all this is a variety of entertaining and informative articles, a feature for which the Yearbook of Astronomy is known.
The Yearbook of Astronomy 2022 continues to be essential reading for anyone lured and fascinated by the magic of astronomy. It remains an inspiration to amateur and professional astronomers alike, and warrants a place on the bookshelf of all stargazers and watchers of the Universe.
Articles for the 2022 edition include:
Astronomy in 2021 by Rod Hine
Solar System Exploration in 2021 by Peter Rea
Anniversaries in 2022 by Neil Haggath
The Yearbook of Astronomy Cover Image: 1962 and 2022 by Steve Brown
A History of the Amateur Astronomy Society: 1962 to 2022 by Allan Chapman
Expanding Cosmic Horizons by Martin Rees
The Astronomers' Stars: A Study in Scarlet by Lynne Marie Stockman
Frank Drake and His Equation by David M. Harland
Remote Observing and Imaging by Damian Peach
Skies Over Ancient America by P. Clay Sherrod
Tycho Brahe and the Parallax of Mars by David Harper
A Tale of Two Henrys and the Search for Their Great Telescopes by Gary Yule
Mission to Mars: Countdown to Building a Brave New World: Laying the Foundations by Martin Braddock
Ad Astra: A Personal Journey by David H. Levy
Internet Satellites: Less Welcome Constellations? by Bob Mizon
Bursting with up-to-the-minute information, the Yearbook of Astronomy 2022 is, as ever, essential reading for anyone fascinated by the night sky.
Yearbook of Astronomy 2022 will be released on 30 October 2021. It can be pre-ordered directly from the publisher Pen & Sword Books Limited. It is also available for pre-order at Amazon and at other online book retailers.